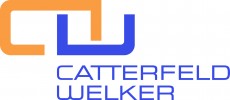 Catterfeld Welker GmbH is a provider of holistic construction management that looks after construction projects in both new construction and renovation.
The company's areas of responsibility are divided into four architectural and engineering services: planning, tendering / awarding, property monitoring / construction management / construction management, and safety and health protection coordination.
The company, founded in 1981, has its headquarters in Munich and currently employs around 40 civil engineers and architects there. In addition, Catterfeld Welker operates a branch in Frankfurt am Main.